About Us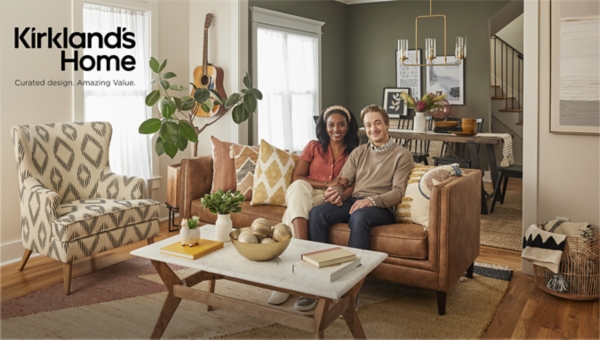 Then, and Now.
Kirkland's Home was founded in 1966, with a single belief in mind: great style can come at a great price—always. That belief propels us today as we consider today's savvy home shoppers in all our decisions. We respect our customers' wallets - and their time - by curating an assortment that delivers the looks they want without great expense or endless searching.
Today, Kirkland's Home sells a full range of home furnishings from sofas to rugs, mirrors to stemware, lighting, tables, candles and more. Each item carefully selected by our designers to deliver "want it-need it" looks with the value and function that our smart shoppers demand.
Kirkland's Home is here with the inspired finds that furnish a room, usher in a season, or exude the vibe our shoppers are seeking.
Our History
1966 Co-founded by Carl and Robert Kirkland as a franchised gift shop in Jackson, TN.
1970s We expanded our decor and gift selection to include exclusively-sourced unique products.
1980s-2000s We evolved from a small gift shop chain to a home decor retailer, greatly expanding our store footprint nationwide.
Early 2010s Adding to our brick and mortar business model, we become an omni-channel retailer with the launch of our eCommerce site.
Late 2010s Evolving our specialty retail presence, we elevated our customer service offerings, merchandise quality, and product assortment to include a full range of home furnishings.
Today Headquartered in Nashville, TN, we operate 355 stores in 35 states, employ 4,000+ dedicated staff, and reported approximately $560 million in sales in 2021. In 2022, we honored our brand evolution by becoming Kirkland's Home.
Continuing a Culture of Caring
We believe in living inspired lives and we're immersed in the communities where we live and work. We honor this commitment through long-standing partnerships with local and national community-oriented organizations. We're strongly rooted in Tennessee and Jackson is still home to a Sales Support and Distribution Center. Our headquarters is located in Brentwood, TN within the Maryland Farms business community.
In our workplaces, we cultivate an environment of diversity, respect, trust and accountability where each of us can connect and thrive. At all levels of the organization, team members use their talents to help create engaging backdrops for our customers' lives. Whether it's through retail stores, ecommerce, service, merchandising, marketing, accounting, and more, everyone plays an important role.