Store Careers
Our store values creativity, collaboration, and fun! Join us in sales, support, or leadership, and help drive the customer experience.
Search Store Positions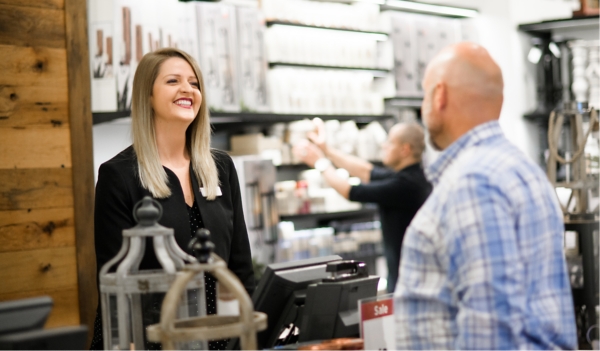 Culture
Kirkland's Home is not only a great place to shop—it's a great place to work.
We pride ourselves on our unique and affordable products, but also on our knowledgeable and passionate team members who love the business—that's you! As part of our in-store team, you'll have a direct impact on how our customers come to understand Kirkland's Home. Just wander through your local Kirkland's Home and you'll see how we're different than your average home decor and gift store. Our store environment encourages employees and customers alike to imagine, create, and explore. In interacting with customers, you'll have the opportunity to share your love for design and home decor, plus tips and tricks you've learned along the way! And because you interact with customers so often, we'll come to you for feedback and ideas on how we can improve both the customer experience and your experience.
Perks
Below is a brief overview of the perks offered to field employees. Your eligibility for benefits depends in part on, but may not be limited to, the length of your continued service, job classification, and number of hours worked.
Full-Time Employees
Three Medical Plan Options with National Provider Network
Dental Plan
Vision Plan
Paid Sick Time
Paid Vacation Time
401k Retirement Savings with Generous Match
Paid Holidays
Store Discounts
Flexible Schedule
401k Retirement Savings with Generous Match
Store Discounts
Balance
We live and breathe everything "home," which means we understand how important your home life is to you; it's important to us too! Work schedules are normally posted about a week in advance and our Managers do their best to work around your availability.
Equal Opportunity
Kirkland's Home is an Equal Opportunity Employer. We are committed to providing equal employment opportunity to all employees and applicants for employment without regard to race, color, religion, sex, national origin, disability, military status, age, or any other protected category as defined by applicable law.