Stores Re-opening & Curbside Pickup
Stores Re-opening
We are pleased to announce that many stores are re-opened for full business (Monday through Saturday 11am – 7pm & Sunday 11am – 6pm). See full list below.
The health and safety of our customers and employees are our top priority. We are providing our employees with masks and gloves and will be sanitizing high-touch points in our stores—including door handles, the checkout counter, and restrooms—at least every 30 minutes. We are also following all local government mandates to limit the number of customers allowed in our store at any given time and we are encouraging customers to maintain 6 ft. social distancing space while shopping or checking out.
Curbside Pickup
We are also offering contactless curbside pickup at select stores.
How It Works:
Choose "Free Pickup in Store" on your item and then complete your order.
Wait for your "Ready for Pickup" email to let you know when your order is ready and you can head to the store.
Pull up curbside between 11 AM and 3 PM 7 days a week. Please note: Furniture items will be available for pickup only on Saturdays between 11 AM and 3 PM.
When you arrive to pick up your order, call the store to let them know you're there.
Provide the Store Associate with your name and order number along with the color and make of your vehicle.
While the Store Associate is preparing your order, please prepare your vehicle for the order to be loaded. This could include opening your trunk or backseat door and moving any objects that might prevent a contact-free loading process.
Once your order is prepared, we'll bring it out to your vehicle and load it! Easy and contactless!
Select Stores
The following stores are open for curbside-only or are fully re-opened:
About Nashville, TN
Welcome to Music City, USA! We're known for country music, but the locals know that's just one of the great things Nashville has to offer.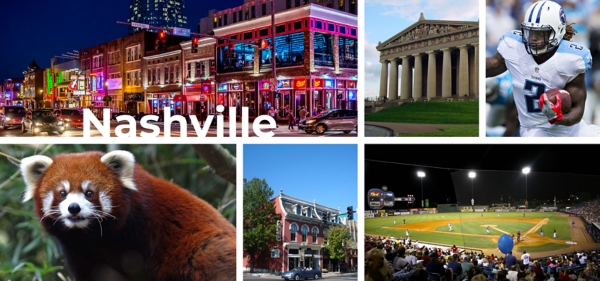 5 Undebatable Reasons You Should Move to Nashville
What makes "Nashvegas" such an attractive destination?
Nashville has been named one of the most promising places to live and work by many publications, including Forbes, The New York Times, and Travel + Leisure. Nashville is a simple combination of friendly folks, darn good dining, big city job potential, and a safe, clean environment to raise a family or raise heck as a single, young professional. Keep reading to see what Nashville and its surrounding cities has to offer you and your family.
1
More cash in your pocket
Tennessee has no personal state income tax.
2
Big city culture, small town ambience
The city boasts over 100 parks, 30 museums, and 13 colleges.
3
Easy investment
Nashville's housing market is booming, but it's ranked as one of the steadiest markets in the U.S.
4
Perfect environment
The average yearly high is 70 degrees and the city harbors a number of national arboretums.
5
Nashville is Music City, USA
Hear the sounds of jazz, indie, folk, or pop drifting through restaurant windows and café doors.
---
At a Glance
Top 20
Greenest Cities in America, Travel + Leisure, 2015
No. 2
Best Big Cities for Jobs, Forbes, 2013
No. 10
Best Places for Business & Careers, Forbes, 2015
Top 10
Best Places to Live Now, Men's Journal, 2015
No. 4
Most Affordable Big Cities in the U.S., Kiplinger, 2014
No. 6
America's Most Attractive People, Travel + Leisure, 2014
---
Business in Nashville
Major industries in Nashville include Tourism, Healthcare, and Education. Close to 12 million people visited Nashville over the course of 2013, and that number is only expected to grow-along with the hospitality industry. The city is also a hub of publishing, both music and print media.
Long before Nashville was nicknamed "Music City," though, it was lovingly referred to as "The Athens of the South." It was the first Southern city to establish a public school system and now hosts 21 accredited four-year and postgraduate institutions.
But do you want to know our favorite part of doing business in Nashville? According to Forbes, the average commute is 26 minutes.
Living in Nashville
With the cost of living about 14% less than the national average, it's no surprise that about 82 people move to Nashville each day. That's about 30,000 each year. The city is said to be more affordable than comparable cities of its size, like Atlanta, Austin, Cleveland, and Tampa.
Nashville has more than 16 unique neighborhoods to choose from, with vibrant dining and shopping experiences in each. No matter which neighborhood you choose, you'll find that a love of family, home, and community are strongly cherished by your new neighbors. It's one of the things that make Nashville such a welcoming city.
Ready for a visit? Stop by. We're the picture-perfect balance of commerce, culture, and family.
30,000 people couldn't be wrong.