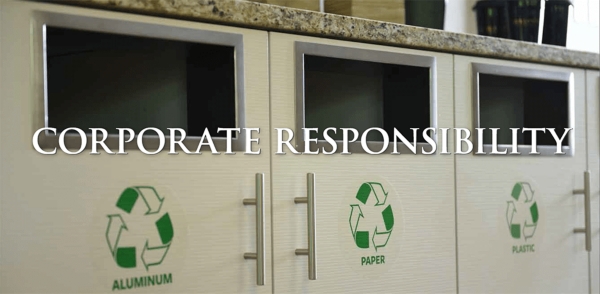 INSPIRATION AT WORK
At Kirkland's, we believe in providing customers with everything they need to create inspirational living spaces, but we also believe in living inspirational lives. We honor this commitment by partnering with organizations that share our mission. With our employees and partners by our side, we're making the world a more hopeful place to be, one inspirational moment at a time. See how we're getting creative with community service and learn more about our remarkable partners.
The Alice and Carl Kirkland Cancer Center at West Tennessee Healthcare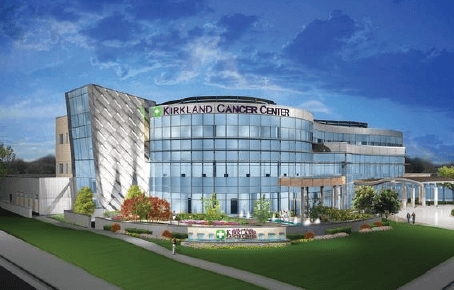 A cancer survivor himself, our founder Carl Kirkland and his wife established the Kirkland Cancer Center in January 2010 in Jackson, TN to further enhance cancer services to people of West Tennessee. This facility though, takes patient care to a whole new level. "The environment in which you fight cancer should be a source of hope," says Mr. Kirkland. "That's why we have created a cancer center with state-of-the-art oncology treatment processes and inviting areas for treatment that instill a sense of promise in everyone that visits." In true Kirkland's form, the Kirkland Cancer Center also houses a retail boutique named "Inspirations," that specializes in mastectomy fittings and accessories. The boutique provides women with emotional and physical support during cancer treatment, helping women get comfortable and feel attractive after surgery.
Monroe Carell Jr. Children's Hospital at Vanderbilt
Kirkland's monetary donations help support the Prematurity Research Fund, which helps Vanderbilt develop new outcomes for the prevention and treatment of prematurity. Tennessee has one of the highest rates of prematurity in the country and Kirkland's donations are vitally important in supporting Vanderbilt's research and ability to provide specialized services for the hospital's premature pediatric patients.
Susan G. Komen Greater Nashville Race for a Cure
To date, the Greater Nashville Affiliate of Susan G. Komen has provided more than $4 million in screening, treatment, and educational services to the women of Middle Tennessee. Kirkland's is proud to be a corporate sponsor of their efforts, and even more proud that Kirkland's employees have made it their personal goal to raise $10,000 in 2015 for the foundation.
Cystic Fibrosis Foundation
The Cystic Fibrosis Foundation is the world's leading donor-supported organization in search for a cure for Cystic Fibrosis. Accordingly, nearly every Cystic Fibrosis drug that is available today was made possible through the foundation's support. Kirkland's is proud to have contributed to their life-saving work. With the help of their donors, the Cystic Fibrosis Foundation is closer to finding a cure than ever before.
Camp Charley, The Charley Foundation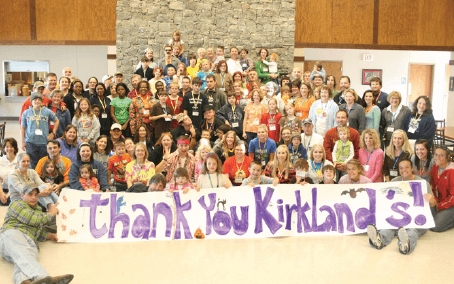 Kirkland's aims to give hope to hearts both young and old, which is why we work with The Charley Foundation each year to help fund Camp Charley at the Center for Courageous Kids, a medical facility disguised as a camp for critically ill children in Scottsville, KY. During their stay at Camp Charley, the whole family participates in memorable activities for all ages, like horseback riding and pumpkin carving. Kirkland's makes sure that several families are able to attend free of charge. These families receive much needed support from other parents, siblings, and ill children, while creating lasting memories with one another. Kirkland's has also worked through The Charley Foundation with the Charles Davis Foundation to help bring a brighter Christmas to inner city children in Nashville for the past several years.
Habitat for Humanity
At Kirkland's, we believe that your home is your sanctuary-your buffer against the world. We also know that a home can be an incredibly difficult luxury to come by for many families around the world, which is why we have supported the mission of Habitat for Humanity since 2011. Kirkland's donates home decor samples several times a year that are sold in the organization's "e-Stores," where proceeds are used to build houses. In 2012, Habitat for Humanity named Kirkland's an honorary sponsor for a home built for a deserving family in Nashville, TN, and we had the privilege of taking part in the home dedication service. Catch a glimpse of this moment!
STARS
As the only evidence-based student assistance program in the country, STARS has had extreme success in addressing bullying, substance abuse, violence, and social and emotional barriers to success in its participating schools and communities. Kirkland's monetary donations make it possible for an on-site STARS specialist to work with 150 high school students on a learning project over the course of a full academic year.
Franklin, TN Noon Rotary Club
The Franklin Noon Rotary Club supports not only communities in TN, but also helps to fund community projects that impact our world. Their main fundraiser is the Franklin Rodeo and the results can be seen in action through the Club's support for local high school music programs to their fight to end polio. Kirkland's is proud to support their objective, Service Above Self, through monetary donations.
Miss Tennessee Scholarship Pageant
With Kirkland's help, Miss Tennessee has spoken in over 200 schools across the state, encouraging kids to be respectful and take a stand against bullying.
YMCA Camp Widjiwagan
Kirkland's shares in Camp Widjiwagan's goal to provide guests of all ages with fun, magical experiences, because that's one of our goals for our store experience too! Through monetary donations, Kirkland's supports one of Tennessee's most inspirational summer camps in spreading the core values of the YMCA: Caring, Honesty, Respect, and Responsibility.
At Kirkland's Headquarters
While we work with external partners to bring about change in our communities, we also facilitate a sustainable environment within the workplace. Kirkland's headquarters is Energy Star® Certified, follows green cleaning practices, uses high efficiency lighting and reduced-use paper products, and includes occupancy sensors throughout the facility.