About Us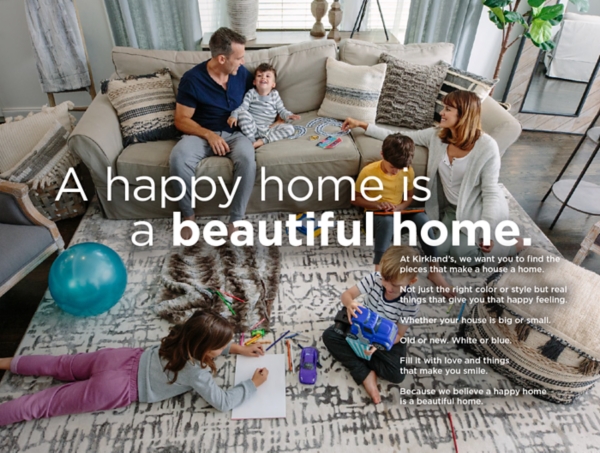 Kirkland's is more than a leading retailer of home decor and gifts.
We help our customers create the backdrop for memorable life events — a family dinner, a child's first birthday, a 20th wedding anniversary, or just a cozy evening indoors.
We're different.
Walk through a Kirkland's store and you'll see; our products aren't displayed on row after row of cold, metal shelves. Together with our store associates, we create inspirational environments that delight the senses, spark memories, and inspire creativity.
We believe great style can come at a great price.
In 1966, Kirkland's was co-founded by Carl Kirkland in Jackson, TN, with a single belief in mind: great style can come at a great price—always.
We're immersed in the communities where we live and work.
We believe in providing customers with everything they need to create inspirational living spaces, but we also believe in living inspirational lives. We honor this commitment through long-standing partnerships with local and national community-oriented organizations. We're strongly rooted in Tennessee and Jackson is still home to a Sales Support and Distribution Center. Our headquarters is located in Brentwood, TN within the Maryland Farms business community. At all levels of the organization, team members use their talents to help create engaging backdrops for customers' everyday lives, whether it's through merchandising, marketing, planning, accounting, and much more. Everyone plays an important role. Explore career opportunities at Kirkland's to start the next chapter of your career.
Quick Facts
Kirkland's was founded in 1966 by Carl Kirkland
We are headquartered in the Nashville, TN area
We had over $630 Million in sales in 2018
There are 369 stores in 35 states
We have over 8000 employees
We have +14,000 products across our digital & retails channels
Our History
We're a one-of-a-kind home decor and gift retailer with 369 stores across 35 states. See how our story began and how you can help us turn the next page...
A small gift shop with a unique vision
The retail industry is practically in Carl Kirkland's blood. The co-founder was raised in his family's clothing store in Union City, TN. At a young age, he was put in charge of the Boy Scout department and had his first hands-on experience merchandising. In 1966, Carl opened a franchised gift shop in Old Hickory Mall in Jackson, TN where he perfected his ability to find and merchandise stylish items at even more stylish prices. At about the same time, Carl's cousin, Robert Kirkland, did the same in Nashville, TN. Both men found success with their down-to-earth business model: offer customers trendy items at great prices. Then, keep new and unique products flowing into the store to please the customer with fresh ideas for their home.
From gift shop to home decor leader
In the late 1970's the two men began traveling abroad to find one-of-a-kind items that weren't being sold in other decor and gift shops. During the years to come, Kirkland's evolved from a gift shop to a home decor retailer and moved away from being a mall-based operation. For most retailers this is a tough transition, but Kirkland's never strayed from the founders' mission to offer the latest styles at a great price, which has led to more than 50 years of success in the home decor and gift market. In 2005, Kirkland's detached from its mall roots and transitioned more than 200 stores out of their mall locations and into more accessible shopping centers. This has allowed Kirkland's to expand the size and mix of merchandise, making it easier for customers to purchase larger items for their homes, like lounges, couches, and vanity sets.
A home decor leader that inspires
In the words of Carl Kirkland, "The Kirkland's store you shop today has the same focus as the Kirkland's you began shopping over 50 years ago: great style and great value, together with an ability to surprise and delight in home decor and gifts." You can still expect to find treasures for your home, whether you visit Kirkland's online or in-store. The founders of Kirkland's established more than a successful business when they brought Kirkland's to life; they established a company that helps us express who we are, one inspirational item at a time, which is a vision that Kirkland's family of employees have helped make a reality for the past 40 plus years. With new stores opening every month, you can look forward to having a Kirkland's near you! If you're interested in being part of a rapidly growing team of creators, innovators, analysts, and more, explore our available careers.