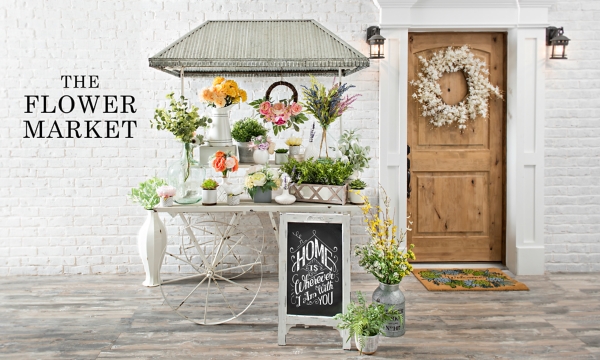 Spring is blooming in the Flower Market!
Welcome to the Flower Market from Kirkland's! From vases and arrangements to centerpieces and wreaths, our outstanding selection of faux florals and greenery will breathe new life into any space. Want to create your own look? Head in-store and shop a variety of faux floral stems and sprays to make your own arrangement. Don't have time to create a look? Our pre-made floral arrangements are ready for you to display. Explore our market below and choose your fresh, new look today!
Floral Arrangements | Floral Candle Centerpieces | Wreaths | Vases | Topiaries
Floral Arrangements
You don't need a green thumb to keep your home filled with floral delights! These floral arrangements feature beautiful blooms that don't require any care. Explore arrangements in your favorite flowers or colors for a piece to bring spring to your space.
Shop Floral Arrangements
Floral Candle Centerpieces
Complete any tablescape with a floral candle centerpiece that will delight dinner party guests every time. Our centerpieces are artfully arranged to feature floral accents around each candle for a full effect that looks good from any angle.
Shop Floral Candle Centerpieces
Wreaths
From front doors to mantels and mirrors, wreaths are finding their way into every corner of our homes. Our newest options feature colors and designs for any space. No matter where you plan to hang your wreath, you'll find the right one to suit your style!
Shop Wreaths
Vases
The right vase can turn a bouquet into an arrangement! Whether you're looking for a floor vase for your favorite branches or a tabletop vase for your newest stems, you'll love all of the choices Kirkland's has to offer.
Shop Vases
Topiaries
Turn over a new leaf in your decor with a stunning topiary. We have options perfect for desks and tables and you can explore our pre-lit topiaries. These artificial plants are the perfect way to add life to any corner of your home.
Shop Topiaries
Visit a store to see more options and create your own Flower Market look today!
Locate nearest store